SEASONAL FESTIVALS & PLANT SALES
WINTER FESTIVAL & CHRISTMAS TREE SALE
Join us for FONA's holiday events at the National Arboretum! Have fun with the whole family while supporting FONA through this annual fundraiser.
Both the Winter Festival and Christmas Tree Sale will be located at the National Arboretum's New York Avenue Parking Lot (see map below). Enter the Arboretum through either the R Street entrance (2400 R Street NE) or New York Ave entrance (3501 New York Ave NE). Dogs are allowed on leash.
Parking is available in the New York Avenue lot, but we expect it to fill quickly. There is overflow parking in the R Street lot (10 minute walk from the event) and the Grove lot (20 minute walk from the event). Please do not park in the grass alongside the road.
After the event, explore all the National Arboretum has to offer in winter. The Gotelli Conifer Collection, Camellia Collection, and National Bonsai & Penjing Museum all offer spectacular things to see during the winter months. Download the Arboretum's mobile app (iOS or Android) to explore what's in season.
The Winter Festival will be held on Saturday, December 2nd from 10 AM to 4 PM (rain date Sunday, December 3rd). Have a hassle-free holidays and get all your shopping done in one place! Registration for this free event is encouraged but not required — let us know you're coming and to receive important event updates.
Shop from over 40 local vendors and find the perfect gift for everyone in your life.
Plants & Garden Accessories
Bruce Ciske Pottery: Ceramic vases and ikebana containers
flowers x flores: Seasonal flower design studio and farm
Herb Society of America: Potomac Unit: Herbs
The Pot Guy: 3D printed houseplant pots inspired by DC and Baltimore landmarks

Art & Gifts
Addi and Friends: Children's books, t-shirts, and other children's gifts
Book of Venus: Multicultural children's and adult fantasy books
Casey Julia Designs: Abstract and fluid art, jewelry, and sun-catchers
D'BohoMama, LLC: Dried floral greetings, macrame, glasses, and stationary
Down2EarthPottery, LLC: Functional and wearable ceramic art
Fern & Folly: Gardening-related gift boxes
Jennifer Pizzillo Arts: Mosaic ornaments and drawings
JG Fine Art: Collected fine prints, paintings, and historical ephemera
Perla's Canvas: Contemporary art centered around women's experiences
Sungh: Marketplace of skilled handmade goods from artists and crafters around the world
Three Stone Steps: Recycled metal art for outdoor display

Clothing & Fiber
Breeze Wind: Winter accessories
Dingus Designs Co: Dog bandanas and accessories
Esther G's Creations: Handmade bags, pillowcases, table settings, and hair accessories
Loopswithluv: Crocheted clothes and accessories
Scarvelous: Knitted, crocheted, and sewn hats and bags
Seven Sadie Lane: Durable and vibrant sewn bags
Food & Drink
Blossom Bakery (Food Truck): Baked goods, soups, and sandwiches
Pho Wheels DC (Food Truck): Bahn mi, pho, and tacos
Cookie YAY: Gourmet eggless cookies
DC Slices (Food Truck): Pizza and fries
Just Ron Chocolate: Specialty hand-crafted chocolates
Paste & Rind Cheese Co.: Cheese cones, artisan cheese, and charcuterie
Pearl Fine Teas: Premium organic loose teas
Pratt Standard Cocktail Co.: Craft cocktail and mocktail mixes and syrups
Republic Restoratives Distillery: Locally-made spirits
Second Story Honey: Honey from the heart of DC
Zeke's Coffee of DC: Fresh hot coffee and cold brew, and bags of coffee beans

Jewelry & Beauty Products
Allergy Friendly Soaps: Small-batch soaps for those with allergies and sensitive skin
By Alysha: Custom crystal accessories, jewelry, stand-alone crystals, and art
Copper Rabbit Crafts: Sustainable soaps, bath salts, and seasonings
Inti Phaxsi Gems: Jewelry crafted with pressed flowers and butterfly/moth wings
Ohene Beauty: Plant-based skincare products

Information
Friends of the National Arboretum: Learn about FONA's work and buy Washington Youth Garden honey
Lotts of Luv: Babysitting company in the DMV led by activity-based educators
The Rounds: Sustainable delivery service
U.S. National Arboretum: Learn about the Arboretum's horticulture and plant conservation work
DC Child Care Connections is hosting free holiday-themed, family-friendly activities during the Winter Festival. These activities encourage families to explore nature in the wintertime, and are geared towards children ages 2 to 12.
Activities include:
Nature-based crafts
Face painting
Book giveaways
Winter-based activities
And more!
The Christmas Tree Sale will take place on both Saturday, December 2nd and Sunday, December 3rd from 10 AM to 4 PM. Saturday's sale will take place right next to the Winter Festival.
Shop Christmas trees, wreaths, and garlands — a portion of all sales directly support FONA!
Tree are available for pre-order and can be delivered or picked up on Saturday, December 2nd or Sunday December 3rd. Pre-ordering is not required but guarantees you a quality tree. Select "Friends of the National Arboretum" as the fundraising partner at checkout to ensure your purchase supports FONA.
The Native Plant Sale takes place every year in March in conjunction with the National Arboretum's Lahr Native Plants Symposium. Our annual native plant sale includes a small number of plant vendors (~3-5 vendors) from across the mid-Atlantic selling spring ephemerals and many other choice perennials and woody plants. We will share more information about the 2024 Native Plant Sale in early 2024.
The spring Garden Fair & Plant Sale takes place every year on the last weekend of April. This is our largest seasonal festival and is a major fundraiser for FONA.
Shop from thousands of plants and over 25 local gardening, lifestyle, and food vendors. You can also get advice from our expert gardeners and enjoy free family activities. We will share more information about the 2024 Garden Fair & Plant Sale in early 2024.
FALL FESTIVAL & BULB SALE
The Fall Festival & Bulb Sale takes places in late September or early October of each year. Stock up both favorite and unusual bulbs, shop from a small selection of local vendors, and have fun with the family through free nature-based activities. We will share information about the 2024 Fall Festival in the summer of 2024.
Apply today to be a vendor at our annual seasonal festivals! Each event draws thousands of attendees to the National Arboretum. We have a limited number of booths available at these events and spaces fill quickly.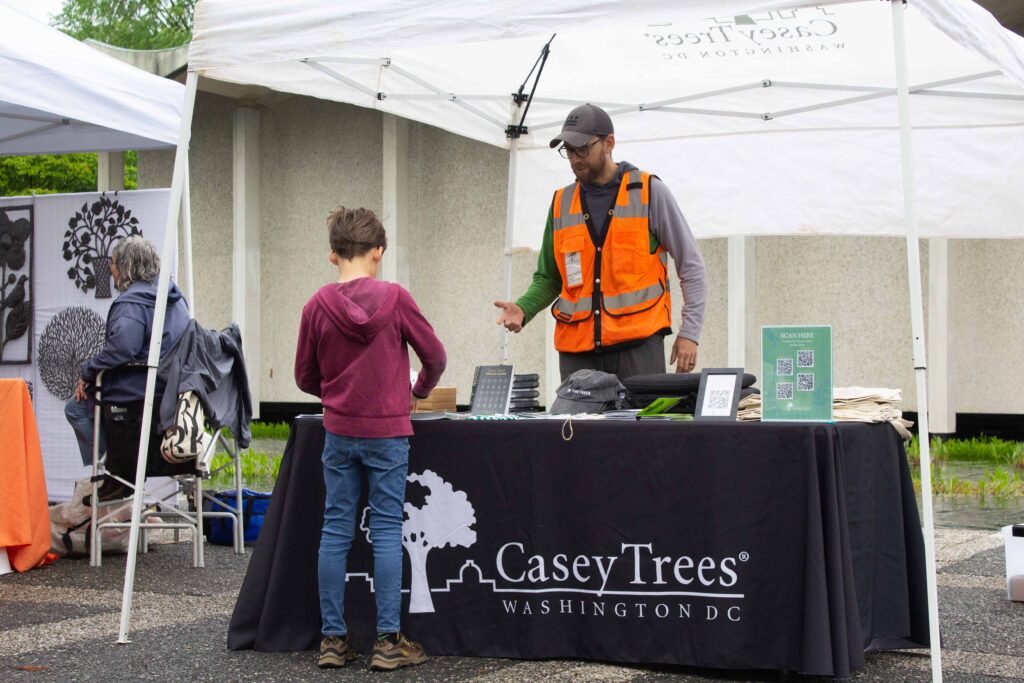 Apply to be a vendor at our seasonal festivals