Fall Festival & Bulb Sale
Saturday, September 30th, 10 AM – 2 PM
Rain date October 1st
Celebrate fall at the Arboretum and stock up on both favorite and unusual bulbs, shop from a small number of local vendors, and have fun with the family through free nature-based activities. We will have 52 different types of bulbs for sale, ranging from alliums to tulips. Many of these bulbs are new to our sale and our supplier, so be the first on your block to plant them!
Sunday, November 12th, 9 AM
Enjoy the Arboretum's fall colors while running or walking the course. Strollers and dogs are allowed, but dogs must stay on a six-foot non-retractable leash. Thank you to Abbott Klar Real Estate Group for sponsoring the race!
Register now to lock in the lowest price and secure a race t-shirt. Race t-shirts are guaranteed with Early Bird and Regular Registration. However, they are only available while supplies last to participants who sign up during Late Registration, and are not available to Race Weekend Registrants.
Saturday, October 28th, 11 AM – 2 PM
Celebrate the end of the growing season with us in the Washington Youth Garden. We'll plant garlic, harvest vegetables, play games, and more! Wearing Halloween costumes is highly encouraged.
Washington Youth Garden (WYG) is a one-acre education garden at the National Arboretum and is a destination for garden-based education and nature play. It was originally established in 1971 to teach local elementary students horticulture and life skills.
Today, Washington Youth Garden is a welcoming and inviting place for the DC community to learn and grow together. WYG's sensory garden, innovative growing techniques, and nature-explore classroom encourage visitors of all ages to engage with agriculture, farming, and environmental education. Thousands of pounds of fresh fruits and vegetables are grown in WYG each year, all of which are distributed to students and families in the DC community to fight food insecurity.
The garden is open to all Arboretum visitors and has parking nearby. Please follow our three garden agreements during your visit:
Stay on the path
Pick with permission
Respect all living things
We host many events open to the public throughout the year, such as School Garden Maintenance mornings, weekend Family Days, and our fall Garlic Planting Party. See our calendar for upcoming events in Washington Youth Garden.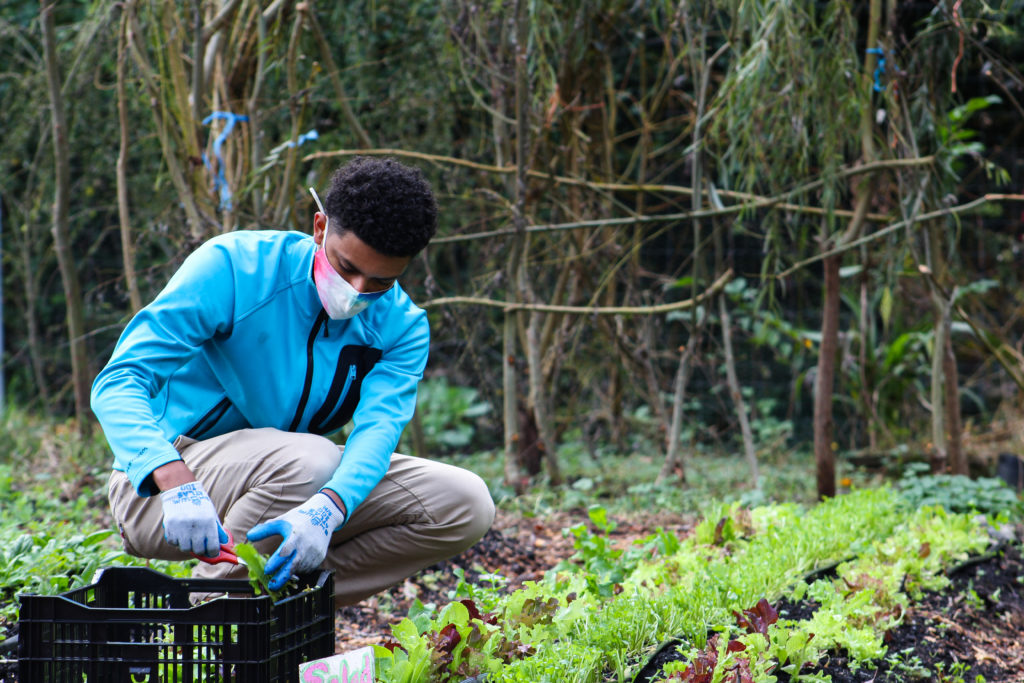 Individual, group, and youth volunteers provide crucial help with gardening tasks such as weeding, planting, mulching, and pest control from April through mid-November. You don't need prior experience, but you must be willing to make friends with the soil and the bugs! See our garden page to learn more.
With a focus on serving under-resourced communities, FONA nurtures curious minds and healthy bodies by connecting youth to food, the land, and each other. Our youth education programs take place at Washington Youth Garden on the grounds of the U.S. National Arboretum and in partner schools across Washington, DC.
Title 1 schools accomplished 45 goals through the Educator Coaching Program
Green Ambassadors honed their gardening, leadership, and communication skills
school garden events hosted at partner schools
DC Title 1 school students engaged in hands-on garden education
School Garden Support Program
The School Garden Support Program works with educators across DC to build strong, sustainable school garden programs. Our program empowers teachers to connect students to garden-based education through field trips in Washington Youth Garden, virtual classroom support, and professional development opportunities for DC educators.
Our field trips take place in Washington Youth Garden at the U.S. National Arboretum. Field trips are 90 minutes long and explore a specific garden theme in an exciting and interactive way.
Bring garden science into your classroom or home with our Grow@Home activity kit, Virtual Farm Field Trips, and curated online learning resources.
Our professional development opportunities train teachers and school staff to make garden-based education a part of daily life in schools.
The Green Ambassador Program (GAP) provides year-round employment and development opportunities for DC high school students. Youth enter the program in the Farm Crew and progress to become Crew Leaders, staff, and alumni.
Participants begin GAP in the Farm Crew, a six-week paid summer internship where they learn hands-on skills such as gardening, cooking, and carpentry as well as interpersonal skills like communication and collaboration.
After participating in the Farm Crew and Guild internships, Green Ambassadors are invited to mentor incoming Farm Crew participants, deepen their knowledge through garden internships, and broaden connections through an alumni network.
RECREATION PROGRAMS & PUBLIC EVENTS
We host recreation programs and public events that encourage a connection to nature, science, health, and wellness. Check out our calendar below to see what's available.
Connect with nature while exploring the grounds. During this two-hour program, our certified nature and forest therapy guide will invite you to reflect on the world around you and guide you through focused meditations. See calendar below for dates and times, or buy a forest bathing gift card for someone else.
Hone your nighttime photography skills by learning through sunset and sunrise photo workshops at the National Arboretum. Learn from the experts and register for a class with Capital Photography Center.
Stay active at the Arboretum through summer yoga classes and the Summer and Fall 5K running races.
Interested in becoming a 5K sponsor? Check out our race sponsorship package to learn more!
The spring Garden Fair & Plant Sale takes place every year on the last weekend of April. Shop from thousands of plants and over 25 local gardening, lifestyle, and food vendors. You can also get advice from our expert gardeners and enjoy free family activities.
The annual Fall Festival takes place in late September or early October. Visitors can stock up garden bulbs, shop at local vendors, and have fun with the family through free nature-based activities.
Join us for the annual Winter Festival in early December. Visitors can buy Christmas trees and other holiday greenery, shop from over 25 local vendors, and enjoy free family activities.
Join us Tuesday, September 19th, 2022 from 5:30 PM to 9:00 PM for our 27th annual Dinner Under the Stars. Enjoy cocktails in the National Herb Garden and a tented dinner in view of the Capitol Columns. Spend a wonderful fall evening with colleagues, business leaders, and government representatives. The Dinner is a fantastic way to mix and mingle — senior staff and officials from Capitol Hill and the Administration will be invited, however attendance cannot be guaranteed.
In our Digging In virtual event series, we host experts to discuss exciting topics pertaining to the National Arboretum's mission.  As a FONA member, you can attend the events live and dig in with the experts.
'Ironing' Out Phosphorus — Helping Nursery Plants Hold Their P
Dr. Jacob Shreckhise, Research Horticulturist at the National Arboretum's nursery research center in McMinnville, TN, shares strategies for how container nurseries can keep phosphorus in…
Use the filter function (above) marked with this icon to narrow down the list of events. Items in black do not have links yet.