SEASONAL FESTIVALS & PLANT SALES
FALL FESTIVAL & BULB SALE
The 2023 Fall Festival will take place on Saturday, September 30th from 10 AM to 2 PM (rain date Sunday, October 1st). Stock up both favorite and unusual bulbs, shop from a small selection of local vendors, and have fun with the family through free nature-based activities. Plus, our team of expert gardeners will be on hand to answer your questions.
This event is located across from Arbor House near the R Street entrance (see map below). Enter the Arboretum through either the R Street entrance (2400 R Street NE) or New York Ave entrance (3501 New York Ave NE).
Bulbs are planted in the fall and bloom in spring. They do well when planted in both the ground and containers, so you don't need a yard in order to grow them.
We will have 52 different types of bulbs for sale, ranging from alliums to tulips. New to this year's sale:
6 different bulb mixes, which are professionally selected to give you maximum flower power with minimal effort.
12 of our selections are new to the De Vroomen catalogue!

Be the first on your block to plant the giant purple Crocus 'Aqua', the peach and white Double Daffodil 'Extravaganza', or the white-flowered Tulip 'Interaction' with variegated leaves.

California Giant Garlic, which produces a flavorful bulb that is easy to peel and pinkish blooms when allowed to flower.
We will host a small number of local vendors at this event, including:
There will also be tons of free family activities hosted by our partners DC Child Care Connections. Activities include a falconry demonstration with raptor expert Rodney Stotts, planting demonstrations, nature-based crafts, a book giveaway, and much more. Registration for the family activities is encouraged by not required.
DC Child Care Connections is the District's Child Care Resource and Referral program funded through the Office of the State Superintendent of Education's Division of Early Learning.
Terrarium Building Workshop at 1 PM — Registration Required
Get your hands dirty and learn how to create your very own mini-ecosystem! Experts from Cultivate the City will instruct you through the process of creating a terrarium. All skill levels are welcome! This event costs $30 and includes a standard open top terrarium, with gravel, soil, decorative moss and an air plant or succulent.
Registration for this free event is encouraged but not required — let us know you're coming and to receive important event updates.
WINTER FESTIVAL & CHRISTMAS TREE SALE
Join us for the annual Winter Festival in early December. Visitors can buy Christmas trees and other holiday greenery, shop from over 25 local vendors, and enjoy free family activities.
More information coming soon!
The Native Plant Sale takes place every year in March in conjunction with the National Arboretum's Lahr Native Plants Symposium. Our annual native plant sale includes a small number of plant vendors (~3-5 vendors) from across the mid-Atlantic selling spring ephemerals and many other choice perennials and woody plants. We will share more information about the 2024 Native Plant Sale in early 2024.
The spring Garden Fair & Plant Sale takes place every year on the last weekend of April. This is our largest seasonal festival and is a major fundraiser for FONA.
Shop from thousands of plants and over 25 local gardening, lifestyle, and food vendors. You can also get advice from our expert gardeners and enjoy free family activities. We will share more information about the 2024 Garden Fair & Plant Sale in early 2024.
Apply today to be a vendor at our annual seasonal festivals! Each event draws thousands of attendees to the National Arboretum. We have a limited number of booths available at these events and spaces fill quickly.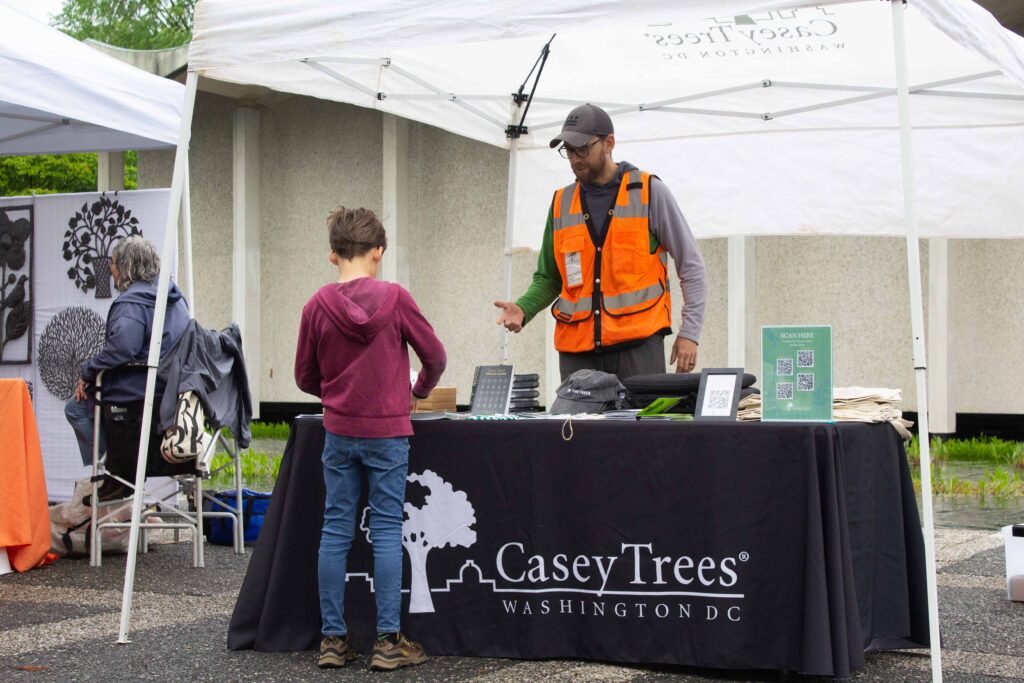 Apply to be a vendor at our seasonal festivals