All events planned for 2021 will meet or exceed the COVID-19 safety protocols that are in place at the time of the event.  Events may be changed, rescheduled, or canceled as pandemic conditions require.
We are exploring holding a bulb sale this fall.  Stay tuned for more details.
Enjoy the open roads and colorful foliage during our Fall 5k. Stay tuned for more details.
Saturday, December 11th and Sunday, December 12th
Our very first Christmas Tree Sale is coming this December. Stay tuned for more details.
In our Digging In virtual event series, we host experts to discuss exciting topics pertaining to the National Arboretum's mission.  As a FONA member, you can attend the events live and dig in with the experts.
Recorded: Understanding Organic Lawn Care
Spring is here, which means it's time to give your lawn some extra TLC! Happy lawns play a big part in maintaining healthy ecosystems. From soil health to water quality, lawns impact the environment far beyond your yard. But what does it mean to go organic?
Join us as we explore organic lawn care with Mary Travaglini of the Montgomery County Department of Environmental Protection. Learn how you can maintain an organic lawn without synthetic fertilizers or pesticides, understand soil health, and discuss organic soil amendments.
Recorded: Eagles at the National Arboretum
There's been some drama this spring in the bald eagle nest on Mount Hamilton.  Interlopers have been ruffling feathers and the male, Mr. President, may even have a new First Lady.  What will all this mean for eagle chicks this spring?
In the recording you will hear from experts Sue Greeley from the U.S. National Arboretum, Dan Rauch from DC Department of Energy and the Environment, and Dr. Robyn Miller from the American Eagle Foundation.
With a focus on serving under-resourced communities, FONA nurtures curious minds and healthy bodies by connecting youth to food, the land, and each other.
Many of our programs are held in our 1-acre demonstration garden. The crops here include a pollinator garden, a sensory garden, an orchard, an outdoor classroom, and lots of vegetable beds.  Much of the produce we grow here is used in our programs; extra produce is distributed to our school garden communities and area food banks.
Throughout the growing season we have programs for families like our annual Garlic Planting Party and Family Garden Days. These events provide opportunities to play games, dig in the dirt, plant the first of next year's crops, and enjoy a day outside celebrating the successes of our growing season. These programs are on hold due to COVID-19.
We support local teachers and schools in growing and maintaining sustainable, integrated school gardens that serve as an outdoor science classroom, a living nutrition lab, and a creative space to get in touch with nature.  We do this through our
Garden Science
partnerships, the
Summer Institute for Garden-based Teaching
, and the Educator Coaching Program.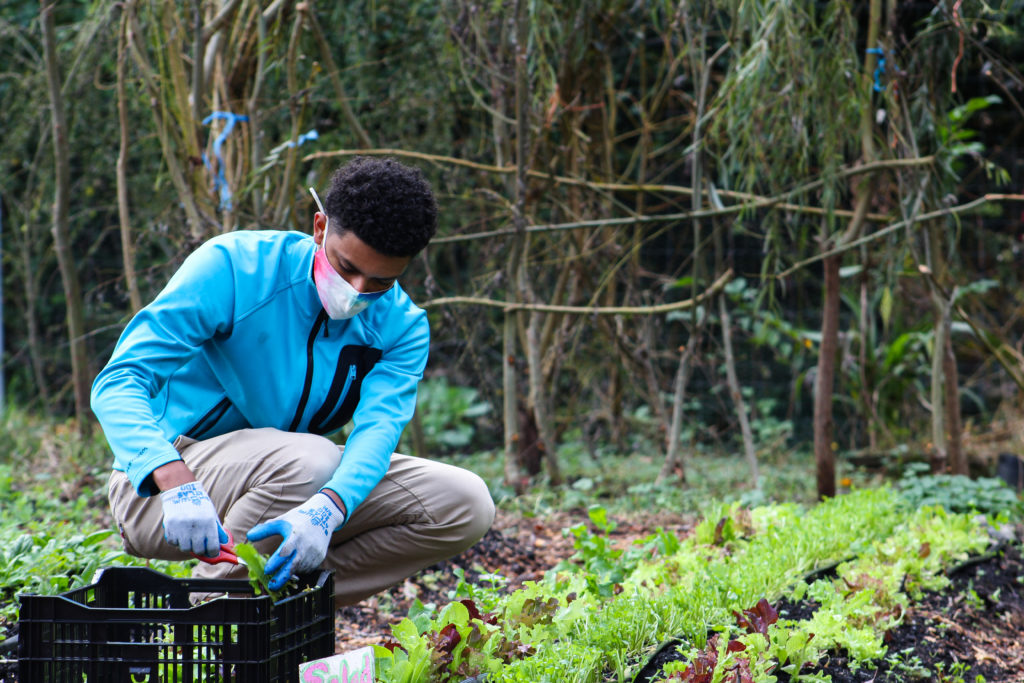 Our GAP interns grow, prepare and eat healthy produce, learn about green jobs, lead student field trips, improve their communication skills, and experience an incredible outdoor summer.   For those interested in continuing their garden education and leadership skills development, we also offer an academic year Guild program.
When it resumes post-COVID, our field trip program will invite pre-K through high School students from all over the Washington metro area to visit our demonstration garden site for a ninety-minute interactive garden science experience based on one of many themes. This program is on hold due to COVID-19.
RECREATION & CONSERVATION PROGRAMS
Whether you are admiring decorative plants, helping a curator pull invasive weeds, or just enjoying the sights and sounds of nature at night, our recreation and conservation programs offer new ways of engaging with the Arboretum.
Connect with nature while exploring the grounds. During this two-hour program, our certified forest bathing guides invite you to reflect on the world around you and guide you through focused meditations. Each event explores new collections to highlight the Arboretum's unique seasonal diversity. See calendar below for dates and times.
Find your flow and get grounded in the Grove of State Trees with Bluebird Sky Yoga. This program is brought to you in partnership with the National Bonsai Foundation. Sundays in April and May. Register on the Bluebird Sky Yoga site. All levels are welcome.
Experience guided yoga offering accessible alternatives designed for amputees and stay for snacks and social time. See the calendar below for dates and times.
Explore the National Arboretum's collections by moonlight on this two-hour guided hike. Learn about the collections' unique history as you experience the Arboretum's horticultural research in action. This program is on hold due to COVID-19.
Ease your stress and worry and improve your well-being by the light of the full moon. Our certified forest bathing guides lead you through focused moonlit meditations in the Arboretum's Herb Garden, Ellipse Meadow, and Capitol Columns during this two-hour program. This program is on hold due to COVID-19.
Use the filter function (above) marked with this icon to narrow down the list of events. Items in black do not have links yet.